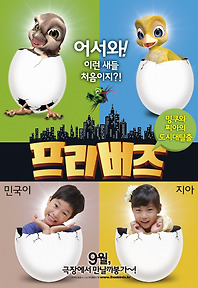 MBC's "Dad! Where are you going?"- Kim min guk and Song jiah will challenge voice acting for the first time!

They will act in an animation film titled "Free Buzz (Free Bird) : Exodus of the city"
Commenting on his first dubbing experience, Minguk said "It is difficult, but it was fun and very energetic process!"
Jiah, on the other hand, commented, " The characters are cute and pretty. We worked really well"
.
This adventure animation featuring Min Guk and Jiah will be released at 17th September in theaters!
translated by anna
mistranslation may occur ^.^'
sources:
http://movie.daum.net/moviedetail/moviedetailMain.do?movieId=59496
http://gall.dcinside.com/board/view/?id=go_father&no=170252&page=1